GNITO
WHAT IS GNITO?


GNITO harnesses Agora's various RTE capabilities to expose aggressors and protect the identities of victims of police brutality, discrimination, and assault. We offer instant multi-app live streaming with blur facial masking to anonymize select video subjects, while providing enhanced accessibility features, such as translatable closed captions.


PROBLEM

Protestors, activists, witnesses, and victims should feel safer when sharing video evidence of abusive or discriminatory behavior in order to expose the perpetuator. Often times, police use protest videos meant to share information to make unlawful arrests on peaceful protestors.


TOOLS USED
Adobe Xd
Figma


DURATION
15 hours, February 2021
PROJECT


Project: DubsTech Protothon Hackathon, 2021
Track: Enterprise (other tracks: Valentine's Day for long distance couples & redesign of Frantically Speaking website)
Parameters: Your task is to think outside of the box and design an enterprise Real Time Engagement mobile or web application that showcases how Agora's video conferencing/voice/streaming/messaging solutions can be used.


Agora provides the SDKs and building blocks to enable a wide range of real-time engagement possibilities. Agora features we used are bolded:


Voice Call
Video Call
Live Interactive Audio Streaming
Live Interactive Video Streaming
3D Spatial Audio
3D Face Mask Features
Object Detection
Sign Language Recognition
License Plate Recognition
Augmented Reality
Machine Learning
BACKGROUND

Given the opportunity to take Agora's RTE capabilities to the next level, in a way that had not been done before, our team wanted to think outside the box and figure out a way to use multiple Agora services for social good. We were intrigued by its abilities to integrate Facial Masking, Object Detection, Live Interactive Video Streaming, and Sign Language Recognition. We thought about Live Video Streaming and thought about its current uses, and where it improvement is needed. Who were the main users of live streaming? Celebrities, enterprises with large social media followings, and educational public figures. We decided to focus on public figures leveraging social media to reach the masses to inform and educate and thought about current gaps in technology for them.


RESEARCH


We immediately thought of the 2020 Black Lives Matters protests that had been live streamed more than ever before (New York Times, 2020), opening up a new branch to activism. However, facial recognition software had been weaponized to make unlawful arrests on protestors using videos of protests shared on social media (Washington Post, 2020). We recognized that there was an obvious gap: social media and live streaming were powerful and necessary, but protestors, journalists, photographers, and organizers needed identity protection or else these videos would continue to decrease.


PAIN POINTS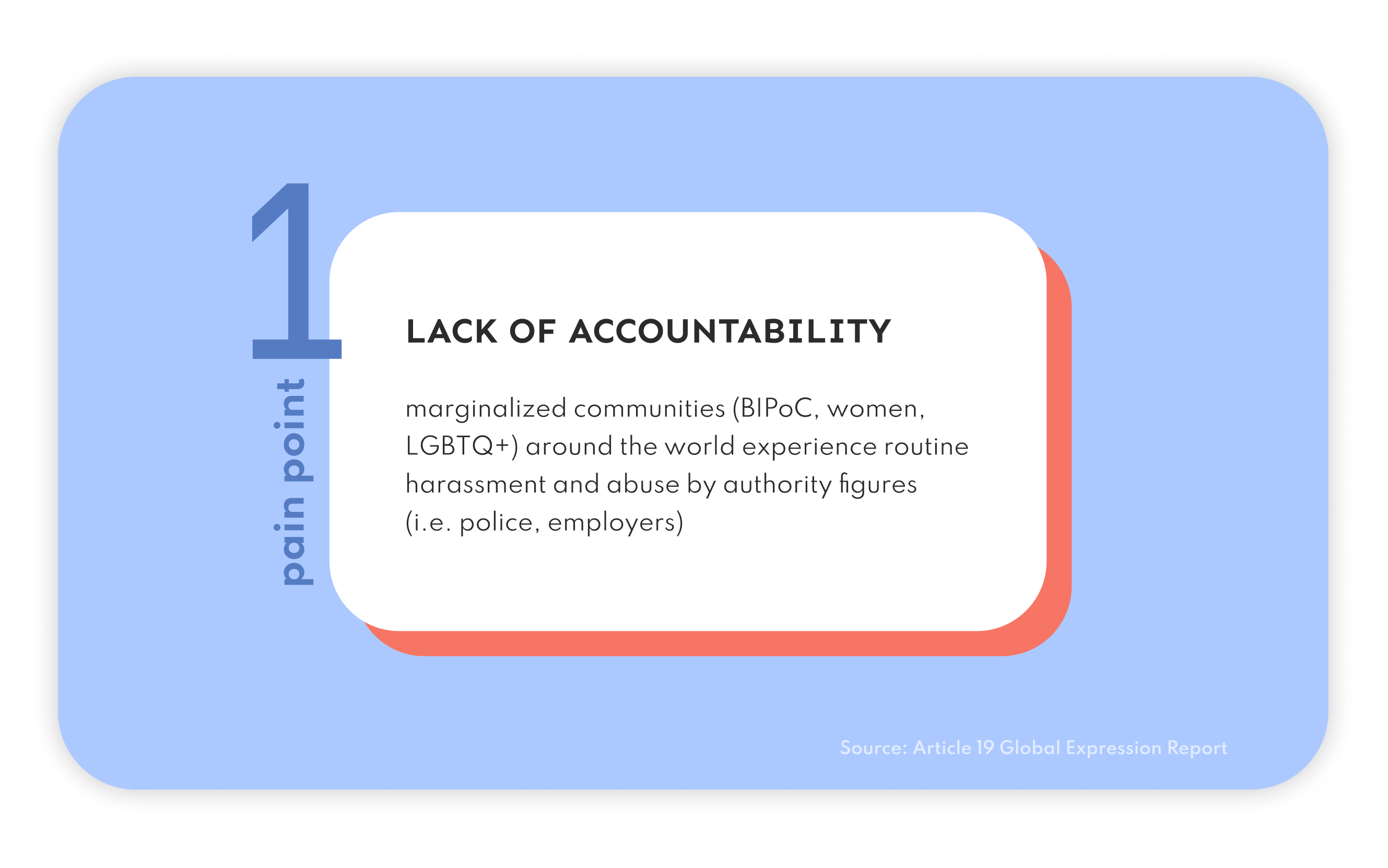 USER PERSONAS
USER FLOW

FEATURES

FUTURE OPTIMIZATION


1. INTERACTIVE LOGIN PAGE
Connect GNITO to social media profiles upon downloading for streamlined and swift live streaming during events and situations

2. REAL-TIME ASL RECOGNITION
Connect disabled activists with the greater public by translating American Sign Language to other global forms of dialogue.

3. MORE MACHINE LEARNING
Optimize Agora's machine learning capabilities as app further familiarizes itself with user data.